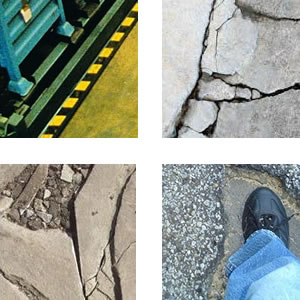 R. C. Davis Company, Inc., Manufacturers of Epoxy Concrete Repair and Coating Products for Industrial and Commercial Use Since 1973
Home of the True-Bond™ line of epoxies, our concrete repair materials have been serving major manufacturers as well as smaller companies for over thirty years! No matter what your epoxy needs are, from concrete floor repair, concrete wall repair, epoxy coating, epoxy patching, concrete sealer or non slip coating, or even epoxy paints, our products provide the permanent solution you are looking for.
Specialty Epoxy Solutions for:

Heavy Forklift Traffic
Wet Surface Applications
Oil/grease saturated areas
Expansion Joint Repairs
Chemical Erosion
Cold Temperature Applications
Non-Slip Surfaces
All of our epoxies are USDA approved and meet OSHA compliance. Our epoxies and coatings are manufactured exclusively for heavy duty Industrial and Commercial applications and are not intended for residential use.